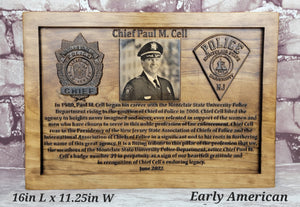 This customizable plaque is the perfect gift for any occasion! It doesn't have to be exactly as pictured or even a K9 styled plaque, it can be anything you want! Your options are endless! All we need from you is the photo(s) you want to use & the style of your sign and we will work back & forth with you to get the desired look you want!

The dimensions of this sign can be 13.5 in. L x 9.25 in. W x .75 in. thick or 16 in. L x 11.25 in. W x .75 in. thick. The size can be larger, please just ask! The stain color(s) can be customized to your liking. When you order please leave us a note telling us which stain(s) you'd like us to use.

***Please note that the photos are not in color & are meant to look a little weathered to give it a unique & special look.***

If you have any questions, please feel free to contact us!